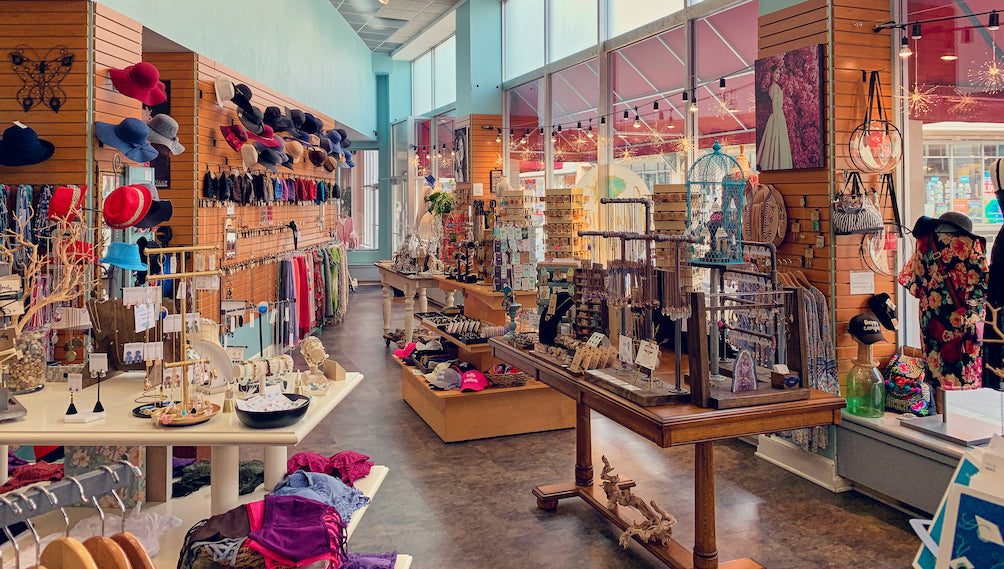 Blue Ridge Beautiful
From mountain-inspired clothing to urban-chic accessories, we curate the best mix of fashion and value - delivered right to your door.
We're loco for locals
There's no shortage of artistic talent around Asheville, and we love it all. Jewelry, Clothing, Art, Candles - It's all here, and it's all fabulous!
Shopping, made easy
New arrivals daily? Check.
Fast and simple shipping? Check.
Hassle-free returns? Check.
Shop with us in-store,
Or shop from home, in-underwear.
★★★★★

Wonderful little shop right in the heart of downtown with nice staff. My wife was thrilled at the selection of clothes and jewelry, and the prices were great!

david r.
★★★★★

Highlight of our shopping day in this area. Wifey found cute stuff for herself, and several gifts to bring back home. Went back later on in the day to buy a couple more things after looking through the other shops.

Sam N.
★★★★★

Absolutely love this store. Super cute and affordable jewelry. Lots of handmade and unique items to choose from. Cute variety of clothes and other accessories as well. Fun and friendly atmosphere. Absolutely must stop here when shopping in Asheville.

Nicole D.
★★★★★

Looking for some cute affordable gifts? This is the ideal spot! Many handmade local jewelry and other items are in this store. Leggings, hats, and all sorts of seasonal accessories are located here conveniently downtown. The staff is also very helpful and sweet! Absolutely Charming!

AppalachiaGuild of HealingArts
★★★★★

What a lovely store with so many choices of accessories! Affordable price and excellent service. I will come back when I visit the town again.

Leona S.